About Our Stamps
Leavenworth Jackson Rubber Stamps are hand-crafted in California of the finest rubber and premium maple wood blocks. Cushion is trimmed to rubber dies and stamp images are shown on top of the wood mounts. Much care is taken with preparation of artwork, engraving, rubber-smithing and trimming to make sure you obtain clearly detailed impressions from every stamp we offer. Our small workshop is committed to energy and resource conservation.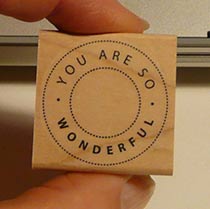 44 years of Service
Since 1979 we've been cooking up quality rubber stamps with gusto.
We Appreciate
your correspondence as well as the mail art you send incorporating rubber stamps and other inspired touches as only you know how.
Respecting Privacy
We do not share your personal information with others and we ourselves are not overly enthusiastic marketers. Twice a year or so we send out a newsletter. Should the time come, please let us know if you would like to be removed from our mailing list.
Unmounted Stamps, etc.
Yes. Refresh your stamp collection without defoliating your wallet. Check out our catalog order form upper left column for the scoop on ordering unmounted stamps, stamp pads and other supplies.